It's hard to feel positive the morning of a school shooting. (It's hard to feel positive in the age of corruption and lies -- which is why I started this blog.) Eight casualties so far at Santa Fe High School, in Santa Fe, Texas. Makes my appreciation of cottage cheese and grosgrain ribbons seem massively feeble-minded.
I'm trying to be a cheerleader and a distracter. I know I'm addressing a small group here, but I'm also trying to rouse you all to find the -- [joy is too strong a word] -- pleasure in a simple way. And I urge you to try to find five things that made improved your week somewhat. Alright? If you have your 5 (or 4 or 3 or even just 1) please share them with the rest of us!
Mary Richards, always a cheerleader
1. I'm going to a good friend's birthday lunch today. How fortunate am I? Also, this is a new friend, and how lucky am I to have a found a new friend at this stage? (Also, I like lunch out because if I'm writing at home or pretending to write at home, or not writing at home, I'm likely not to eat until dinner.) And now, being interested in sustainability, 'I'm going to merge this birthday lunch with 2. Watch me.
2. When the time comes, I often have just the perfect birthday card on hand. Sorry if it sounds like I'm boasting. Some of my favorites come from unlikely sources: the New Orleans Museum of Art, Madewell clothing stores, the Seattle Library shop, and a little housewares store in Hudson, New York, and a furniture store in Mill Valley, California.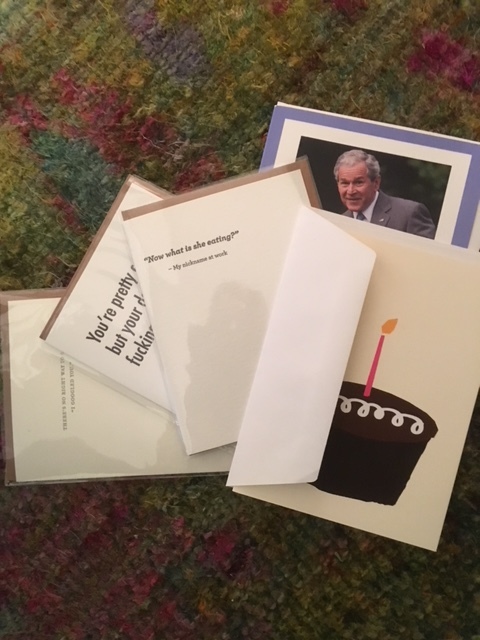 3. The Royal Wedding. You might not care. I don't exactly care. That's not even the right word. What I'm trying to say is that the wedding happening tomorrow between Prince Harry of England and American actress Meghan Markle is a kind of flash of sunshine in these grim days. Does the royalty matter? Will it push any envelope whatsoever to see a commoner marry a royal? As a HUGE FAN "The Crown" it is certainly fascinating to know that the same Elizabeth who squashed her sister's happiness when she forbade her from marrying a divorced man (even though he was a faithful insider at Buckingham Palace) has given her blessings to a divorced, mixed-race American woman who is older than her grandson. But love is love is love, to paraphrase Lin Manuel Miranda (another big favorite of mine) and I will watch the wedding tomorrow with some friends if I'm up.
4. I'll wake up. Scones have been promised. And my friend's apartment has many tvs so I can watch the HBO feed, with Will Ferrell and Molly Shannon. (And so can you!)
5. Robert Mueller, Robert Mueller, Robert Mueller, Robert Mueller.
Onwards and upwards!
Lisa xx